About Dr. Marotta
Dr. Antonio Marotta is a board certified, licensed Doctor of Chiropractic who utilizes several types of modalities and methods to accomplish his patient's goals.  Together, Doctor and patient work as a team to obtain a desired level of wellness in a safe, healthy, and effective manner.
Dr. Marotta graduated from the prestigious New York Chiropractic College with high honors. He is a Board Certified, licensed Doctor of Chiropractic that is regarded among his patients and the community as a caring and compassionate doctor that is honest and gives recommendations based on what his patients need.
Dr. Marotta treats patients from newborn infants to senior citizens. He is extremely passionate about the miracle of chiropractic and how it has DRAMATICALLY improved not only the lives of millions, but also his very own. Because of this, Dr. Marotta has made it his LIFE GOAL to help as many people as he can experience the miracles that chiropractic can provide.
Dr. Marotta loves to treat families as well. It is his belief that a "WELL-ADJUSTED" family can be happier and healthier than average. A family that does not experience any symptoms, does not need any medications, and have optimally functioning brains, nervous systems and bodies has LESS STRESS, MORE MONEY, MORE HEALTH AND MORE HAPPINESS than the family that has one or more family members SUFFERING with ailments, medications, medical visits, etc.
Marotta Health and Wellness Chiropractic is a health care facility which assists with the increase of health, wellness and quality of life.
Our treatments are patient specific to maximize healing and patient results.  We perform "high velocity low amplitude" adjustments, but also perform low force and no force techniques for patients who "don't like to get cracked".
Request A Free Consultation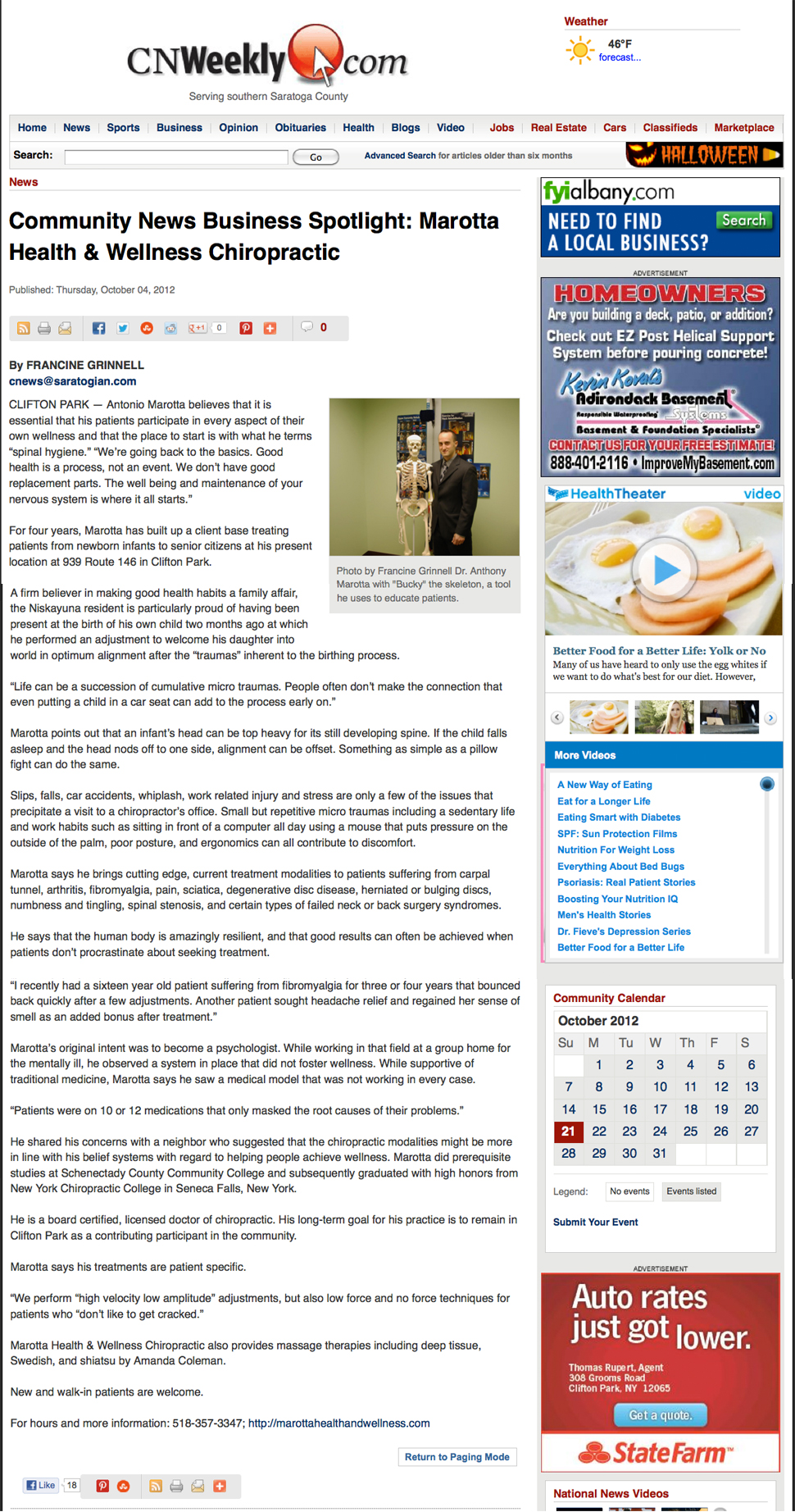 Local newspaper article on Dr. Marotta  and Marotta Health and Wellness Chiropractic and Massage